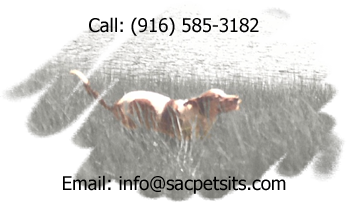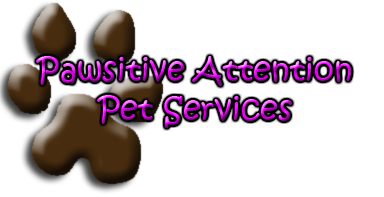 New Clients
- We are happy to take new clients January 15th through October 31st each year.

- We do require a consultation in your home prior to the start of services. This consultation is free with your paid booking. The consultation takes 30 - 45 minutes. We will collect a copy of the keys, payment for your first service, fill out paperwork, and get a tour of the pet areas of the home during this meeting.

- If you require new services in the next 72 hours, please call us at (916) 585-3182 and we will do our best to accomodmate your needs. Please be advised that we may charge a "rush" fee for this service as well as require a non-refundable deposit to be made via PayPal prior to the consult.

- We are happy to provide you with a quote for services over the phone or via email. To give you a rate quote, we need to know the following:

(1) The area that you live in
(2) The dates you will need service
(3) The number of visits you will need each day
(4) The type and number of pets that will need care

- Visit minimums:

Healthy adult cats should be seen a minimum of once every other day. This is especially important with male cats which are prone to urinary blockages with severe consequences in as little as 72 hours.

Rabbits, Guinea Pigs, and Chinchillas should have a minimum of 1 visit per day to ensure their need for a constant supply of clean fresh hay is met and to monitor for incidents of stasis.

Reptiles, birds, fish, and other pets: please call to discuss your pet's needs.

- You will be assigned a "main" pet sitter however, in the event of your sitter's personal emergency, illness, or need of the business, we may schedule an equally qualified and caring pet sitter to provide services to your pet.

- 99% of our clients utilize our free "Key on File" service. With "keys on file", copies of your house keys are kept by Pawsitive Attention Pet Services in a safe at a secured location. If you do not wish to use this service, you will need to provide your own lockbox for use on your property, or we must be able to leave the keys inside your home after our last visit (doors must be lockable from inside the house).

Please note that if you utilize our services in the future without a key on file and without a lockbox on your property, we will need to arrange pick up of the key or the key can be mailed to us - both of these options will incur a fee.

- Pet Care Visit Times:

We offer our drop-in pet sitting visits from 9am - 10pm 7 days a week. Most of our visits are done between 11am and 7pm. There is an additional fee for client-requested visits between 9pm & 11pm or prior to 9am.

- Payment:

We accept cash, check, and credit card. Credit cards are processed through PayPal. Payment is due at the start of services, or at your initial consultation. If you are securing services prior to having departure dates, we will collect payment equal to your regular visit fee during the consultation which will be applied to your first visit and is non-refundable.